A divorce is a long and complex journey; and one that comes with a lot of paperwork. The documents that you'll need for divorce in Ontario will differ based on the nature of the divorce – whether it's a simple or joint divorce or if it's an at-fault or no-fault divorce. One of the documents you'll need for the divorce in Ontario is the affidavit of divorce (Form 36).
In this article, we'll be touching up on what the affidavit for divorce is, how to fill it out, affidavit for divorce example, and everything else you'll need to file for a divorce in Ontario.
Affidavit For Divorce (Form 36)
The affidavit for divorce (Form 36) can be found attached to Form 36 Affidavit for Divorce PDF. Here are a few steps you need to take to fill it out properly:
1. Write down all the names, contact details, addresses, and the court file number
2. Certify that the information provided is correct and that there's no chance of reconciliation
3. Provide all the necessary information about your Marriage Certificate
4. Mention why you're seeking a divorce
5. Mention any claims of child custody, spouse maintenance, and shared assets
6. Provide the names of the children, their birthdates and the visiting arrangements you've mutually set
7. Put a line through any blank spaces
8. Get the document notarized
How to File a Divorce Application in Ontario?
To file a divorce application in Ontario, you'll have to file an application with the Ontario Superior Court of Justice. You can file this application in person and online as well.

For filing a divorce application in Ontario online, you and your spouse need to meet the following criteria:

1. That you've both been separated for at least 1 year
2. That you're able to afford the divorce application
3. That you've been married in Canada

If you've been married outside of Canada, you need an electronic marriage certificate from that country – and this rule applies in the case of joint divorce only.

If you don't meet the criteria mentioned above, you can still file an application for divorce in Ontario by visiting the Ontario Superior Court of Justice.

Another thing to note is that if, alongside the divorce application, there's also the matter of child custody and visitation rights, then you'll need to file your divorce application in the family court that's located in the residence of your children.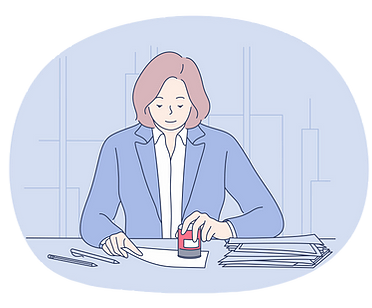 Schedule Your Appointment
What is the Process for Applying for a Divorce?
In order to file a divorce application in Ontario, you'll need to take the following steps:
1. Gather Your Documents
2. Filing Your Documents With the Court
3. Wait for the Court to Issue a Divorce Order
4. Obtain the Certificate of Divorce
The first thing that you'll have to do is to decide whether you're filing for a simple divorce or a joint divorce – both of these procedures require different documents, and we've touched on them in the sections below.
Once you've gathered all the necessary documents, you'll need to make four copies of each of them, put them in a stamped envelope addressed to all the parties involved, and take them to the court. When you've handed over all the documents to the court, the court staff will assign your case a number and a date of hearing.
At this point, you'll have to swear under oath to the contents of the Affidavit for Divorce Form 36. Additionally, you'll be given a Registration of Divorce Proceeding form to fill up as well, which will be sent to the Department of Justice for clearance.
With the documentation wrapped up, and the case filed in the court, you'll now have to wait for a period of 6 to 8 weeks for the court to issue a Divorce Order. Divorce order is a declaration by the court that all the documents have been verified and cleared. If the divorce is a joint divorce, it might take the court more than 6 to 8 weeks to issue the Divorce Order.
What is The Difference Between Simple Divorce and Joint Divorce?
Depending on the nature of the matter and the reasons behind the splitting, divorce is categorised into the following two ways:
If one of the parties is seeking to terminate the marriage – and there's no issue of splitting the assets or joint custody – then the divorce they're seeking will be called a simple divorce.

In that case, the only two documents you'll be needing are:

● Your marriage certificate
● A signed copy of Form 8A: Application (Divorce)

In a simple divorce, every matter other than the divorce application has either not arisen, or has been settled via a settlement agreement.
Alternatively, if both the parties are seeking to not just terminate the marriage, but also to divide assets between themselves and to negotiate custody, then the application is called a joint divorce.

A joint divorce application, because it's much more layered, requires a bigger set of documents in order to be filed before the Ontario Courts. These may include the following:

● Divorce Application (Form 8A)
● Acknowledgment of Service (Form 6)
● Affidavit of Divorce (Form 36)
● Divorce Order (Form 25A)
● Affidavit of Service (Form 6B)
● Federal Divorce Proceedings Registration
● Any prior court orders related to your marriage
● Notices, Calculation or Recalculation issued by relevant authorities regarding child support

A joint divorce usually takes less time than a simple divorce because it's been filed with spouses who are in communication with one another – even if via third parties. They're also a little less costly because there's no summoning or service fees involved.
Can You Get Divorce Without Your Spouse's Signature?
No, you can't get a divorce without having your spouse sign the relevant documents first.

This is because when you're dissolving a marriage, you're splitting shared assets, dividing property, and coming to mutual child custody and spousal support arrangement. All of this cannot happen without the consent of both parties and therefore, you need signatures of both the spouses in order to proceed with the divorce in Ontario.
What is the Difference Between Fault and No-Fault Divorce?
Once you've decided on whether to file a simple or a joint divorce, the next step is determining the fault of the parties in the divorce – that is, whether it was an at-fault divorce or no-fault divorce in Ontario.

Determining the fault boils down to the reasoning behind the said divorce. If you're separating because your spouse has cheated on you or has caused you physical or emotional distress, then you'll be filing for an at-fault divorce.

Alternatively, if there's been no adultery, or emotional or physical harm – rather, you've been separated from your spouse on amicable terms for more than a year, you'll be filing for a no-fault divorce.
Do You Need a Separation Agreement Before Divorce In Ontario?
Short answer? Depends on whether the divorce is contested or uncontested.

Sometimes, both the parties filing are still in communication and have come to a mutual understanding of how things are going to be after their divorce – this is called an uncontested divorce. However, there are times that parties end things on a more bitter note, are not in communication with one another, and have a lot of claims that need to be negotiated upon – this is called a contested divorce.

Many times, a divorce application that had started off as uncontested can become a contested divorce when matters of shared assets and custody and visitation rights arise.

This is why having a separation agreement in place prior to filing a divorce application in Ontario helps. Without a separation agreement, the divorce process might take more time than it would have otherwise.
How Long Does it Take to Get a Divorce in Ontario?
If the divorce is simple and uncontested, the entire matter can be wrapped up in under 6 months.

However, if it's a joint divorce in Ontario with multiple other matters to discuss – like custody of the children and division of shared assets – then the matter will involve mediation, calculation, judicial action and could take longer than 6 months.
Can the Form 36 Affidavit for Divorce be Commissioned Remotely?
Yes! The form 36 (Affidavit for Divorce) can be commissioned and notarized online by booking an appointment with an online notary service in Ontario.

Notarizing a document online is super convenient; it'll definitely save up a lot of trouble in the usually-hectic divorce process. It's always a good idea to delegate the hassles of the documentations to professionals while you focus on your emotional well-being during this distressing time.
I want to notarize an Affidavit for Divorce. Where can I do it?
If you need a notary for your Form 36: Affidavit of Divorce, All-Canada Notary can help. You can visit any our notary public locations near you. Book your appointment for online or in-person notary. It is easy and simple. Same-day service is available.
Get Started: Schedule Your Meeting Now