Ever faced a passport emergency in Canada and wondered about your options?  No worries! We've all been there. Whether it's that sudden overseas job opportunity, an unexpected family emergency, or the unfortunate "Oops, I lost my passport" scenario, sometimes we need our passports pronto! In this article, we'll walk you through your urgent passport options in Canada and what to expect in terms of costs.
If you wonder how All-Canada Notary can help you in your passport application, we offer valuable services to make the process smoother. We provide certified true copies of your documents, ensuring the Passport Office recognizes their authenticity. Facing difficulty finding an eligible guarantor? We can assist with the "Declaration in Lieu of Guarantor." In unfortunate events of a lost, stolen, or damaged passport, we stand by to help with the Affidavit for Lost and Damaged Passport.
Grab a cup of ☕, and let's dive in!
First off, let's chat about what a passport is (besides that thing you occasionally misplace). A passport is essentially your golden ticket for jet-setting across the globe. For us Canadians, it's also a must-have for all air travel within the country. But life has its curveballs:
Your passport expired, and it slipped your mind.
Your passport decided to play hide and seek during your move.
Someone swiped your passport while you were overseas.
You suddenly need to travel, but wait… where's the passport?
Enter the Urgent Passport. It's just like your regular passport but gets to you at lightning speed. With Service Canada on your side, you can zoom through the application process and potentially have your passport in hand the very next business day. The catch? Well, you'll need to shell out a bit more 💰. But hey, if it saves you from missing that non-refundable flight or crucial meeting, it's worth every penny!
The Waiting Game: Regular Passport Timeline
Before diving into the urgent options, let's chat about the standard passport processing times. Typically, Service Canada whips through your passport application in about 10-20 days. After that, Mr. Postman might take an additional 5-10 business days to deliver it to your doorstep.
Remember the first time you got your Canadian passport? Mine was in my hands in less than three weeks. If you have a bit of time up your sleeve (think 3-4 weeks), the traditional route is easier on your wallet.
Crunching Numbers: Passport Costs
Alright, let's talk dollars and cents. Here's a nifty breakdown of the standard passport fees:
5-year passport (ages 16+): $120
10-year passport (ages 16+): $160
Child passport (0-15 years old): $57
If you've got the extra cash, go for the 10-year option. Trust me; it's worth it. Plus, who knows if those fees will skyrocket in the future?
The Need for Speed: Urgent Passport Costs
Now, for the moment you've been waiting for – the cost of urgency:
Urgent pickup (next business day): $110 + Passport Fee ($160) = $270 (for a 10-year)
Express pickup (2-9 days): $50 + Passport Fee = $210
Weekend or holiday service: $335 + Passport Fee = A whopping $495!
Kiddo on the Go: Urgent Passports for Children
Got little adventurers? Here's what you'd pay for their urgent passports:
Urgent pickup (next day): $110 + Child's Passport Fee ($57) = $167
Express pickup (2-9 days): $50 + Child's Passport Fee = $107
Standard pickup (10 days): $20 + Child's Passport Fee = $77
Weekend or holiday service: $335 + Child's Passport Fee = $392
Lost & Found: Replacing a Lost Passport
Misplaced your passport? First, deep breaths. 🌬️ Service Canada's got your back. If you're replacing a lost or stolen passport, there's an extra $45 fee. This deactivates your old passport, ensuring no sneaky identity theft.
How to Get Your Urgent Passport
Ready to speed things up? To apply for an urgent passport:
Head to a Service Canada passport office.
Make sure you have your completed passport application, ID, passport photo, travel docs, and, of course, your payment ready.
Before we wrap up, here's a handy checklist for your urgent passport application:
Completed Passport Application: Download here and fill it out in advance.
Identifying Documents: Bring a couple – like your driver's license and health card.
Passport Picture: You might consider going to a large pharmacy or retail chain.
Travel Documentation: Plane tickets or other travel plans.
Urgent Passport Fee: Yup, have your payment ready!
How can All-Canada Notary help with your passport application journey? Well, in Canada, a Notary Public, especially from a reputable company like ours, plays a crucial role in the process. Let's break it down a bit:
Statutory Declaration in Lieu of Guarantor: If you are applying for a new passport, you will need a guarantor. If you cannot find an eligible guarantor for your passport application, you may need to complete form PPTC 132 Statutory Declaration in Lieu of Guarantor, and guess what? We're right here to assist with that. Statutory Declaration in Lieu of Guarantor can be notarized online and in-person. For affordable and convenient online notary service click here to schedule a meeting.
Verification of Photocopies: When applying for a passport, especially in cases where you don't want to submit your original documents like citizenship certificates or immigration status documents, a notary can provide certified true copies of these originals. This gives the Passport Office confidence in the authenticity of the copies you submit.
Affidavit For Lost and Damaged Passport: When your passport is lost or suffers some wear and tear, you may need an Affidavit for Lost and Damaged Passport. This is a sworn statement that details how your passport got lost or damaged. At All-Canada Notary, we'll guide you through the process of drafting and notarizing this affidavit, ensuring it meets all the necessary requirements. So, even in stressful times, you can count on us to have your back and get you ready for your next journey!
With the basics covered, you may still have specific questions about navigating a passport emergency. To further assist you, we've compiled a comprehensive FAQ section that addresses FAQ: Quick Guide to Urgent, Express, and Emergency Weekend Passport Services in Canada
Q: I've got a sudden trip, and I need my passport ASAP! What can I do?
A: Don't stress! Canada offers a few speedy options for folks in a rush. You can opt for:
Urgent pick-up: Get your passport by the end of the next business day.
Express pick-up: A tad longer, but you'll have it in 2 to 9 business days.
Emergency service: Perfect for those weekend or statutory holiday travel plans.
Q: Sounds great! How do I request these speedy services?
A: It's pretty simple. You can ask for these services in two scenarios:
When you're applying for your passport in person.
If you've already applied but realize you need that passport sooner than expected.
Q: Got it. Anything else I should know before I opt for these services?
A: Yep! Make sure you:
Have all the necessary documents ready. The last thing you want is a delay because of missing paperwork!
Keep in mind that there might be some extra fees for these speedy services. But hey, for that peace of mind, it's worth it, right?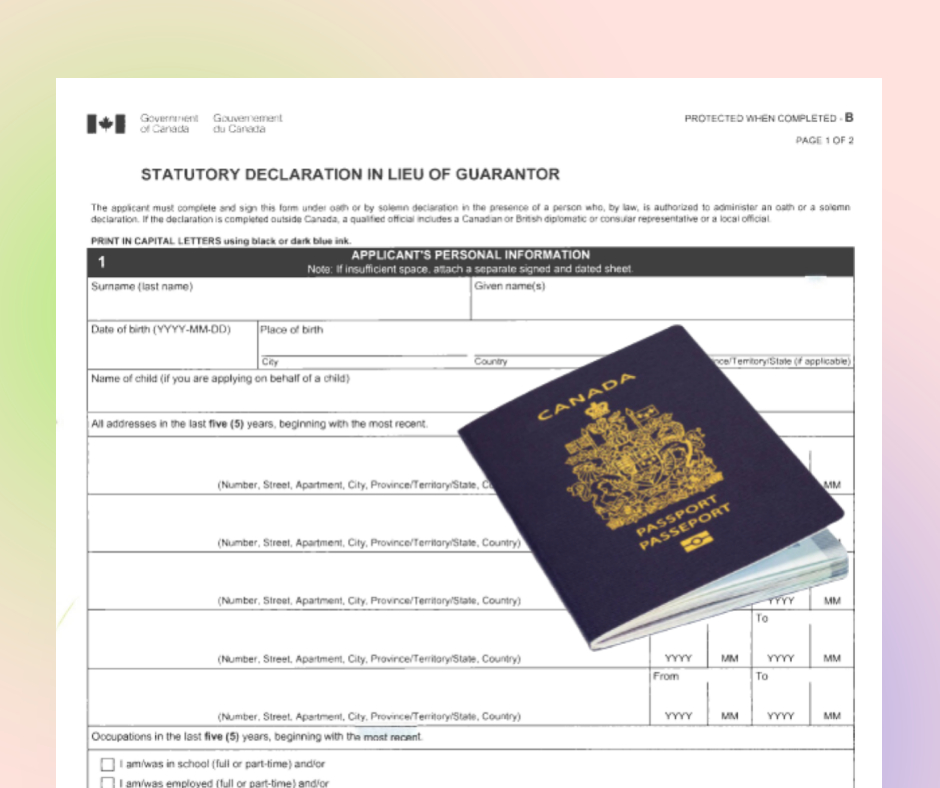 Canadian Passport Application: Statutory Declaration In lieu of Guarantor form and Guarantor (PPTC 132)
Q: Okay, so I want to opt for one of these speedy passport services. Do I need to prove that my need is legit?
A: Absolutely! You can't just say you're in a hurry; you need to show some evidence.
Q: Alright, what kind of proof are we talking about here?
A: Here's a list of things that can back up your claim:
Ticket to Ride: An airline, bus, or train ticket showing your travel details.
Car Travels: If you're hitting the road, a written statement explaining the reason for your travel is needed.
Itinerary: A travel itinerary that shows you've paid for your trip.
Family Emergency: If there's an illness or death in the family that requires you to travel, you'll need to provide proof.
Statement: A written explanation from you or someone else about why you need the passport. This can be for reasons like legal matters, banking issues, or residency requirements.
Q: That makes sense. Anything else I should be aware of?
A: Yes, a heads-up: if, for some reason, the passport doesn't reach you or your child on time, Service Canada isn't responsible for any losses you might face. It's always best to be cautious.
Q: So, should I book my tickets after I get my passport?
A: Bingo! As excited as you might be about your travels, it's wise to hold off on finalizing any plans until that shiny passport is in your hands.
Q: I've got a super urgent trip, and I'm flying out in less than 48 hours! What do I do?
A: First things first, breathe! Head straight to your nearest Passport Canada office (Service Canada Centre – Passport Services). The good news? No need to book an appointment. There's an additional fee of $110 for urgent pick-up. Lost or had your passport stolen? That's another $45 for replacement.
Q: How can I check the current passport application and other fees?
A: To get the most up-to-date info on fees inside Canada, click here.
Q: What if I need my passport in just 2 days?
A: For super urgent requests under 2 business days, visit your nearest Passport Office with proof that you're in a hurry. If it's under 10 days, try booking an appointment online. But, a heads up: during peak times, spots may fill up super fast!
Q: I'm outside Canada and need urgent services. Help?
A: You can get temporary passports or emergency travel docs. They're only for urgent situations or specific requirements. Always check with the Government of Canada office abroad before paying. For fee details outside Canada, click here.
Q: What about needing a passport during the weekend or a holiday?
A: Call Passport Canada at 1-800-567-6868 for a weekend appointment. They're available Monday to Friday, with specific timings. This is strictly for emergencies and if your travel is over that upcoming weekend or holiday. Make sure you've got all your docs in order!
Q: I hear there's a fee for weekend or holiday services?
A: Yes, it's CAN$335 on top of the regular fees. For instance, a 10-year passport will be $160 + $335 for the weekend service. Other fees might apply, like if your passport was lost. And remember, paying doesn't guarantee a passport. Sometimes, there might be delays.
Q: What if my family needs urgent services over the weekend or holiday?
A: For each family member's application, there's an additional CAN$110 on top of their regular passport fee. So if you're getting a 10-year passport and a 5-year one for your kiddo, it'll be $160 (yours) + $335 (your weekend service) + $57 (child's) + $110 (child's urgent service).
Q: How can All-Canada Notary assist me in my passport application process?
A: Absolutely, we're here to simplify things for you! If you're hesitant about submitting original documents, we provide certified true copies to ensure the Passport Office recognizes their authenticity. Having trouble finding an eligible guarantor? We can help you with the "Declaration in Lieu of Guarantor." And if life throws you a curveball, like a lost, stolen, or damaged passport, we're on standby to assist with the necessary declarations.
Always remember to check the specific requirements of the Passport Office, but rest assured, we've got your back every step of the way!