Fast. Easy. Affordable. No hidden fees!
Looking for notary services in Toronto but struggling to find a convenient location? Look no further than All-Canada Notary! We've got you covered, whether you need notarial services during regular business hours or outside of them. Our team of licensed and experienced professionals in Toronto offices can provide you with virtual or in-person notary services, ensuring your needs are met.
Our notary services are readily accessible to cater to your requirements. Rest assured that we will respond quickly and effectively. Whether it's basic documentation or highly sensitive matters, you can rely on us.
If you're ready to request one of our notary services now, please click one of the options below. We look forward to serving you!
Our Notaries Public in Toronto can help you with:
Swearing affidavits and declarations
Preparing wills and powers of attorney
Preparing affidavits and declarations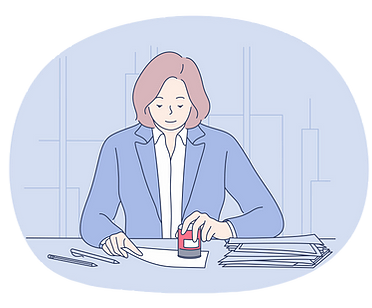 Schedule Your Appointment
Why You Should Choose Online / Remote Notarization?
Avoid the hassle of searching for a notary. Instead, conveniently have your documents notarized in the comfort of your home or office.
Notarizations starting at $32.95, $22.95 each additional seal.
Never worry about misplacing your important documents, securely notarized online means you control document retention
Our notaries are licensed and experienced. They're ready to walk you through the signing and notarization.
In addition to certifying your documents, we provide drafting services at affordable fees for invitation letters, vehicles registration, affidavits, consent to travel and more.
All-Canada Notary is here to happily assist and help you with your notarization needs. We have a curated team of friendly professionals who will make sure your needs are met.